ABOUT THE

STUDENT-CENTRED LEARNING GUIDE

For us, here at PebblePad, the ultimate reward of student-centredness is learner autonomy and independence, and increasingly these key attributes are accelerated through learning experiences beyond the classroom, on internships, study abroad, community projects, student awards and many other co- and extra-curricula activities. Yet, while student-centred learning is clearly the long-term goal of many universities across the globe, delivering on this ambition can present a number of challenges. Our free guide presents 6 ideas for overcoming these challenges and kickstarting a successful organisation-wide student-centred learning strategy.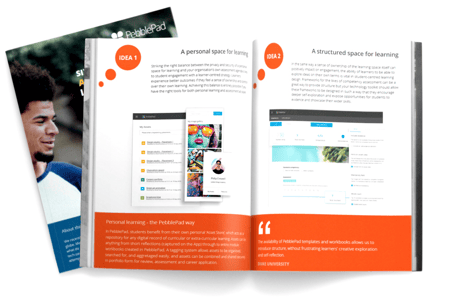 Our free guides, papers and resources have been downloaded thousands of times by higher education strategists, teachers and technologists across the globe. To download a free copy of this publication, simply complete the short form below.