About the event

FREE PUBLIC LECTURE: The Role of ePortfolios in Medical and Health Education
Date and time: Wednesday 13th June 2018 10:00 - 12:00
Duration: 2 hours
Location: Sydney University, Australia
Cost: Free
Visiting academic Paul Duvall will share his experiences with introducing an eportfolio platform into a new medical curriculum at the University of Liverpool. The new curriculum was launched in 2014 and now, four years on, the eportfolio system is embedded in almost every element of the curriculum, throughout all years, covering approximately 1500 students. It also enables over 1000 clinical staff to interact with the programme and deliver student supervision, as well as supporting university processes such as progression review and personal tutoring.
While Paul will speak to his experiences within medicine, many of his examples of use will be equally relevant to other health disciplines. These include mapping the requirements of the curriculum against online workbooks, online and offline recording of student activity, digital verification from clinicians in any environment, remote monitoring of student activity, and the creation of a learning design that facilitates both a formative and summative approach.
Paul will also discuss more broadly what 'eportfolio practice' looks like within the health education context and how this might be different to the understanding of eportfolios in other discipline areas.
Anyone with an interest in eportfolios in medical and health education is invited to attend.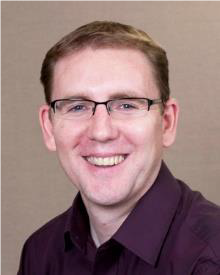 About Paul Duvall
Paul has 20 years of experience working in a variety of roles, and institutions, within the Higher Education sector in the UK. The constant theme running throughout all his professional roles has been the use of technology to enhance learning. He has experience working across many different disciplines and contexts including teacher training, healthcare and other vocational courses.
Over the last 5 years Paul has held an academic position at the School of Medicine within the University of Liverpool. This role provides academic and strategic leadership for the use of technology across the entire medical curriculum.
When Paul arrived in the School one of the strategic priorities initially identified was the requirement to record and manage medical student activity and development. This included activity both on campus and within a variety of external clinical environments. It was agreed that an eportfolio system had the potential to satisfy this requirement and Paul was tasked with the implementation of this project to coincide with a new medical curriculum launching in 2014.
Book your place below
During the afternoon Paul will be hosting a hands-on workshop for anyone who is using, or wanting to use, PebblePad within their Medical or Health-related curriculum, please see https://resources.pebblepad.co.uk/PDworkshop-registration for further details and to book your place.